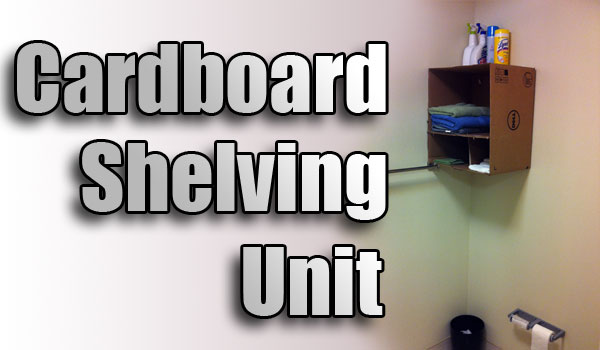 I haven't been able to post things in a while because I have been getting ready for college, moving into college, and starting classes. Now that I am at college, my postings (like recently) will probably be far apart. Although I won't be able to post a new project every week, I hope to post on the Backroom Workdesk Facebook page things I am doing . I am majoring in Engineering Graphics and Design so I'll probably post things that I have done in class or similar.
With that being said, here's what my roommate and I built the other night….
In the dorm I live in I share a bathroom with one other guy: my roommate. We were discussing that we needed some type of shelves in the bathroom to keep towels on. Our original plan was to go to WalMart one night and buy a cheap shelving unit, but as we were sitting there discussing, my roommate said that we should build our own shelves out of a cardboard box that was left over from moving in. I thought it was a great idea so we went to work.
We took the cardboard box and cut off the lid flaps. We then started getting an idea of how we wanted the end product to be. We decided to have one main shelf about 1/3 of the way up and have a little divider that separates the 1/3 lower shelf into two sections. The vertical divider would also double as a support for the main shelf. Once we got a game plan, we began construction.
We started this build at around 1am so everything was done with a TLAR (That Looks About Right) building style. We measured (roughly) somethings, but the rest was just eyeballed. For the main shelf we hot-glued two of the lid flaps together side-by-side and then added another flap to the bottom of the main shelf for extra thickness/strength. The vertical divider was made out of the fourth lid flap. We then started gluing things in place. The vertical divider was glued in first followed by the main shelf. I believe when it was all said and done three extra long glues sticks were consumed in this build. I got a little carried away with the hotglue haha.
Our original plan was to have the unit to sit on the floor in the bathroom, but then we thought it would be way better to hang it on the wall. My roommate had some of those hooks that mount on the wall so we used those to hang the shelf. The hooks are similar to the Command strip hooks, but the ones he had had foam mounting tape on them so they stuck really well to the wall. We would mount it with a more robust mounting method, but we are not allowed to screw into the walls in our dorm. We mounted the shelf to the wall so that one of the corners rested upon the towel rack. This way not all of the weight is on the two hooks. We also zip tied the cardboard shelf to the towel rack.
The shelf has been in use now for over a week and has been doing fine. We only have a few towels, wash cloths, and some cleaning supplies so it is not too much weight. So far we don't see any problem of it falling, but if it does we can always mount it better.
We are pretty happy with it and it has helped out a lot!